Green Thursdays: Turtles Up For Adoption
March 8, 2012
From Huffington Post: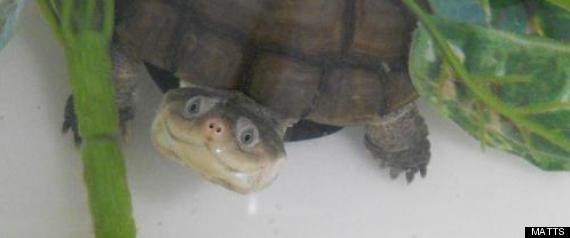 Perhaps you've seen this delightful video of Tony (the human) taking Newman (the Sulcata tortoise) for a walk in Burbank, Calif.If so, you may have thought you'd like to get a tortoise of your own.
Katrina Smith can help.
Smith is the adoption coordinator for the Mid-Atlantic Turtle & Tortoise Society, a group that helps place abandoned turtles and tortoises into new homes. The society also holds turtle-related events and gatherings.
"They're just a bunch of people who like turtles," Smith says.
Turtles and tortoises are complex pets — they aren't usually cuddly and they don't usually take walks, Smith says. But they do require a lot of space and a lot of care, which comes as a surprise to the unprepared people who take home baby turtles not knowing what happens when they mature.
"A lot of places tell you they're not going to get bigger. And they're easy to care for," Smith says. "And then they grow up."
MATTS adopts out about 100 turtles and tortoises per year. The most common type of turtle they handle is the Red-eared slider — an aquatic turtle that starts out tiny but can grow up to a foot long and may live up to 70 years.
MATTS has other types of turtles and tortoises available for adoption as well. Among them are Eastern box turtles, small land-dwelling omnivores native to the eastern United States, including Maryland and Virginia.
Also up for adoption is a Sulcata tortoise, like the one in the video. (Caution: do not watch this video of a pet Sulcata tortoise chasing a kitten unless you are prepared to get in touch with Katrina Smith.) MATTS also has snapping turtles, Eastern box turtles and the Eastern musk turtle, otherwise known as the stinkpot.
Tags:
animals
,
eco-friendly
,
going green